Getting Around to It!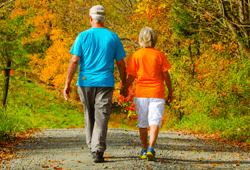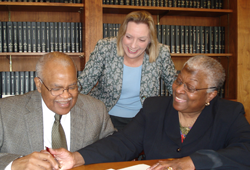 Classifying Mel and LuJuana Butts of Mt. Vernon, NY, as active retirees just doesn't go far enough. Aside from serving on the Board of Regents for Concordia Seminary in St. Louis, Dr. LuJuana Butts is a frequent speaker and leader at national and regional LWML events. She will give the opening keynote address at the 2013 LWML Convention in Pittsburgh. LuJuana holds four degrees in education including a doctorate from George Washington University. Many years were devoted to education and administration. Now, however, she devotes her time and talent to her church, Redeemer Evangelical Lutheran Church in the Bronx, NY, the Seminary, and the ladies of the Church.
"I absolutely love my work with the after-school tutorial program and with the LIPS ladies in the church," LuJuana enthuses. LIPS is all about the Bible studies she leads for the "Ladies in Prayer and Service" at Redeemer. "We are always learning God's Word, that's for sure!" she adds. That's capped off with singing in the choir called LUNGS (Lifting Up the Name of God in Song).
Equally serving is LuJuana's husband, Mel, a retired Army Colonel. Acquiring two masters' of science degrees in management served him well during his working years at four colleges-U. S. Military Academy at West Point; Concordia in Bronxville, NY; Wallace Community College in Selma, AL; and as administrator at the City College of Chicago. No slouch at fundraising, Mel authored successful grant proposals for the colleges that totaled over $5 million.
Now he enjoys presenting seminars to high school students on how to prepare for college and tutors in the after-school program at Redeemer. He harmonizes with LuJuana in the LUNGS choir and heads the property board. Previously, he served as vice president of the congregation.
Based on all that, you might say they embrace life completely! Sitting on the back burner, however, was their estate plan. It lacked badly needed revisions, but they just didn't seem to have the time to work on it. Mel's interest piqued, however, after a conversation with his friend, Dr. Clifford Peterson. Cliff and his wife, Sharon, had just finished an out-of-the-box charitable estate plan that Mel found to be interesting.
It wasn't long after that conversation that Mel, LuJuana, and I sat around their dining room table to review their current plan. Several months later after face-to-face meetings and numerous phone calls, they were ready to sign a revocable plan that provided for them, their two sons, Senga and Kial, and the ministries so near and dear to them-LWML included. Their plan includes a testamentary charitable trust that will provide income to their sons for 20 years after Mel and LuJuana receive their crowns of glory.
"That works for us!" Mel said after signing all the necessary paperwork. "We finally got around to it," LuJuana added. "This will be a real blessing to our sons and to the Lord!" Yes, indeed, it will. For more information about a charitable estate plan, contact
linda.gage@lfnd.org
or call 800-741-4138.