LWML PRESIDENTS LEARN ABOUT GIFT ANNUITIES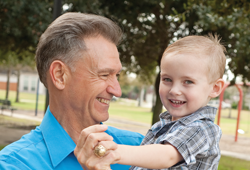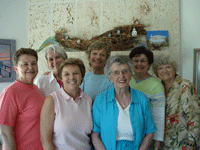 Like most District presidents, LWML national presidents give 110% to their positions. So it must be a tremendous relief to shed the responsibilities of leadership after four years of being "on the run."
Does that mean former leaders drop out of sight? Not hardly! When LWML started a planned giving initiative, Gifts of Love, to provide for its own female gift planning counselor (thanks to the leadership of Virginia Von Seggern and Linda Reiser), Gloria Edwards and Linda led the way by entering into their own gift annuity contracts with LCMS Foundation. (The Foundation acts as the administrator of gift annuities for most LCMS ministries.)
(Gift annuities are funded with cash or appreciated stock. Donors receive increased income guaranteed for life based on their age and the gift amount as well as an income tax deduction. Part of their payment is tax free until life expectancy-another tax benefit. When the donor is called to her heavenly home, the remainder is distributed to LWML National, an LWML District and/or other ministries of LCMS, according to the donor's wishes.)
"I get information on gift annuities all the time," former President Edwards commented at a recent gathering of past national presidents. "But I didn't really 'get it' until it was explained to me face to face. I can do this!"
And she did, along with Linda Reiser. The irrevocable contract may not be for everyone, but many LWML women could enjoy the benefits of increased income and tax advantages. Rates depend upon the donor's age and can reach as high as 9.5% for 90 year olds. Significant benefits are realized especially through stock transfers.
"We need to educate our women about gift annuities," former President Reiser relates. "Many of our women could serve themselves and LWML through a gift annuity. They just need to know how. Plus, it's so easy to do."
That's what Gifts of Love is all about-helping LWML women (and their spouses) understand how easy charitable planning can be to return a portion of the many blessings God has first given us.
To learn more about gift annuities, contact
linda.gage@lfnd.org
or call 800-741-4138.