A Lutheran Woman on a Mission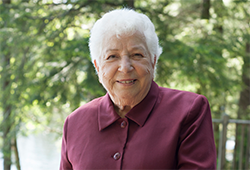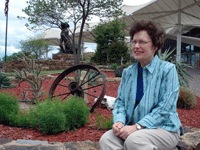 Provides for Her Favorite Charity-LWML!
From the clothes she wears to the purple umbrella she carries to her license plate holder that marks her as a Lutheran Woman on a Mission, Marguerite Christman of Oklahoma City personifies LWML.
"I remember as a little girl doing my homework while my mother attended LWML meetings at our small rural church," Marguerite recalls. "LWML has always been a major part of my life."
Her service demonstrates that. It wasn't long after she attended her first LWML meeting as an adult that she became president of her local congregation's LWML group. Eventually, she became a Zone president, Oklahoma District president, national Convention chair, and national Vice President with a host of assignments in between.
So once LWML launched its Gifts of Love planned giving initiative, Marguerite was one of the first to not only promote it, but also support it financially.
Her first gift was a cash contribution, but even before she met Pat Bilow, LWML's gift planning counselor, she had decided to take out a charitable life insurance policy naming LWML as the beneficiary. Marguerite wanted to make sure that LWML receives a major gift in thanksgiving for its ministry to her throughout life.
A number of life insurance options are available for charitable gifting-from old policies that are no longer needed for their original purposes to policies that can be owned by LWML with LWML named as the beneficiary. When LWML is named as the owner and beneficiary, the premium payments made by the donor are tax-deductible. For more information, contact
linda.gage@lfnd.org
or call 800-741-4138.