A New Plan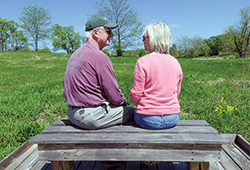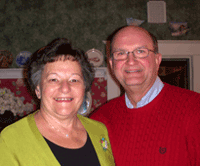 By Pat Bilow
LWML Gift Planning Counselor
It just so happened that Elaine Stier heard my talk about charitable planning at the LWML Minnesota North Convention, and it just so happened that I was at my booth when she walked by, and it just so happened that she wanted to learn more, and it just so happened that her husband, Pastor Don Stier, was nearby, and it just so happened that she pulled him in to hear more-all of which ultimately led to a charitable plan that serves them with income (and their children later on) plus some handsome gifts for LWML.
A lot of coincidences? Not hardly! "The Lord had his hand in all this!" Pastor Stier reflected with a warm smile.
After that initial meeting at the Convention in Duluth, we met several times at their home in Hinckley, MN, so they could learn more about the benefits of charitable planning based on their own circumstances.
Eventually, our meetings led to their decision to fund a charitable trust with land that Pastor Don had inherited from his father. This provided a number of blessings for them: lifelong income from the trust for both, income for their children after Pastor Don and Elaine are called to their heavenly homes, a direct gift for LWML, a handsome charitable income tax deduction and the elimination of a capital gains tax. It also removed the need for the eventual probate process in another state.
"We're very happy that we decided to go this route," Elaine commented. "It has relieved us of selling and all the maintenance that goes with real estate. This has been a great way to multiply a talent that the Lord blessed us with. It was a big step to take, but we're glad that we moved forward."
For more information about charitable trusts funded with appreciated farmland, stock or depreciated farm equipment (for retiring farmers), contact 1 (888) 482-8425 or e-mail
lwmlgiftplanner@lwml.org
.